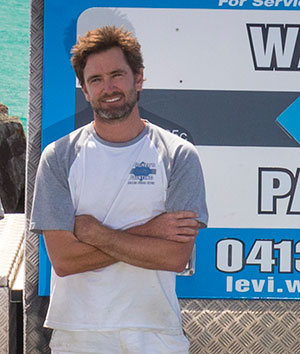 Levi Wagner has dedicated his entire professional life to painting. He is proud of the business he has built around his craft and the standards he has set and maintained for himself and his team. He is more than a tradesman. Levi Wagner is a master craftsman.
Levi began his apprenticeship at the age of sixteen. He learnt early in his career that a successful business relies on excellence and reputation.
For almost two decades he has maintained a quality of workmanship that has set him apart in the highly competitive Mid-North Coast market.
Levi is proud of the reputation his business has acquired in the region and attributes that to the fundamental beliefs he has a businessman and as a master tradesman.
High Quality Standards for Modern Developments
He is uncompromising in his standards and what he expects from his team of highly skilled, qualified painters. It is no surprise that Wagner's Quality Painting and Texture is the most sought after painting team for prestigious high rise developments, luxury villas, commercial properties, renovations and state of the art residential buildings.
Skill, craftsmanship, attention to detail, cutting edge products – Wagner's Quality Painting and Texture has built its reputation on excellence in every detail. But it takes more than a brilliant finished product to really excel as the standout painting service in the region. The client experience takes Wagner's to another level of excellence. Levi pays particular attention to the relationship between client and craftsman. It can be an intimate business and Levi acknowledges that it is an important and often overlooked consideration.
"I have a team of ten highly trained, highly skilled painters, each with a broad range of skills, licensed, qualified and the best in the business."
"Just as importantly, they are people you would like to have in your home."
"It's a very personal business having a tradesman in your house and all of my painters are professional in their appearance, the way they conduct themselves and the standards they maintain."
"My team has been together for the past decade and I trust each and every one of them. We're going to be around for the next 30 years. We're here to stay and to have that sort of confidence to be able to back it up."
Levi's standards are uncompromising and he is mindful that he, and his team, live in the same community as the clients he's working for.
"That means we have to stand by our work. We don't just come into a place, do the job and leave. We have to stand by every job we do – and we're proud of how we operate and the reputation we've built."
If you could benefit from using a highly professional painting team with a great reputation then give Levi a call on
0413 680 279
or fill in our quote and we can get back to with an accurate quote on your project.